this year was nooo different in the bowles household...we spent loads of bills on traveling hither and tither seeing our favorite bands sweat it out on stage. although i'd love to say that EVERY band we saw was stellar, only the choice few make it to the hallowed halls of the roster of "top show".
so, without further babbling, here's the top 5 of the year:
#5 --> MGMT @ Bonnaroo 6/12 - Manchester, TN
the first night of
bonnaroo
is always a strange transition period between the recently left behind reality of your day-to-day social norms and the new completely detached amazing world where the music schedule and keeping track of how many mushroom caps you've eaten are the only things you need to worry about. well, mgmt played on this first night, and provided a grand segue to our long, long amazing weekend.
we had just come off the stage where
superdrag
had muddled through some of their past, and unfortunately new, catalog. i had waited to see these knoxville rockers for a decade and a half...and unfortunately after their set wished i had gotten off my ass and seen them in '97-ish...oh well. when mgmt hit the stage, a strange aura hit the crowd just as the night fell. between their psychedelic jams, and their dance-your-ass-off beats, the sweaty crowd made this show amazing. it almost (ALMOST) met the vibe of the flaming lips set from '07 - and that's saying a lot.
i WISH i could express the ecstasy i felt during "Electric Feel". listen to the
song
at full volume, and you'll be 10% there.



#4 --> The Magnetic Fields @ Meymandi Concert Hall 10/18 - Raleigh, NC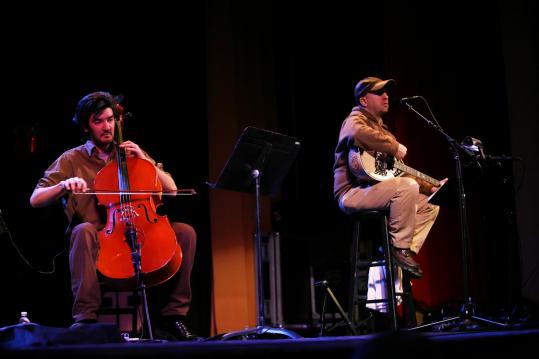 this show was allison's birthday gift to me...and what better way to say "let's go drink in chapel hill, eat awesome food, and see great music in a concert hall"...er, i mean, happy birthday. plus, i got to spend 2 hours in
CD Alley
- the best record store in the mid-atlantic, hands down!
the show was amazing, as expected...i mean, it's the mag fields - what the hell would you expect. stephen was annoyed, claudia was chatty and over the top, and the crowd was silent...fairly typcial, eh?
the band carried the show heavily from their newest album
Distortion
, but also played a smattering from their past catalog, which was obviously
69 Love Songs
heavy.
every song was spot on...these are professionals, so nothing short of perfection would be tolerated on mr. merritt's stage. so professional, in fact, that they continued playing "Take Ecstasy With Me" even through a power outage. awesome.
#3 --> !!! @ Bonnaroo 6/13 - Manchester, TN
so, day 2 of bonnaroo was hot as balls. eric, dave, and i were watching minus the bear through a surprisingly good set ONLY to work our way to the front for the next band set - 60 minutes of !!! (or chk chk chk, or gooch gooch gooch...whatever you prefer to call them). these guys took their sweet time in taking the stage, which was irritating - but once nic offer took the mic, it was time for serious dance party.
as required, he came out in his
officer dangle nutters
, and "shook it" in a way that would get him arrested if done within 600 feet of a public school. quite simply, these guys came out and threw out the BEST dance rock show i'd ever seen. i still debate the turning point of the show...when i got to beat nic's cowbell, or when shannon funchess stuck the microphone between her asscrack. ridiculous.
#2 --> radiohead @ nissan pavilion 5/11 - bristow, va
in short, i was privileged to be at this show. radiohead told us the day, let me stress, ONLY THE DAY, the tickets were to go on sale for this show. so, naturally, i was awake at 4AM that morning, and hitting refresh on the
w.a.s.t.e website
until i got in around 9AM'ish. i got tickets. I GOT TICKETS!!!! none of my other buds got tickets that day. the rest of them had to wait until the crappy lawn seats went on sale to the public.
so, the day of the concert...wait --- rewind one day )-)-) i got married the day before this concert. what better way to start a marriage then to see one of your (and your brides) all-time favorite bands? can't think of anything better.
anyway, back to the day of the show. it was a production, to say the least. in summary:
we left richmond at 3PM for a 9PM show...seems reasonable, right?
record rain intensity once we get on I-95
35 mph
a dude in the right lane changes lanes INTO us, hitting my car...then proceeds to lie to the state trooper blaming it on me. i'm out $900. new jersey drivers...don't get me started.

once in manassas, the main route to nissan pavilion is flooded and closed.
after numerous detours, and a parking lot nightmare, we shut off the engine at 9:30PM in the parking lot almost a mile away from our seat. We miss "All I Need", "Jigsaw Falling Into Place", "Lucky", and 50% of "Nude".
nevertheless, this kid shouldn't complain. a heap of my friends missed the show ALL TOGETHER when the cops decided to close the roads leading to the pavilion after they'd sat in traffic for well over 4 hours. their consolation prize? a free lawn seat ticket to an upcoming show in new jersey. new jersey...bah!
regardless of all this nonsense, it was the 2nd best show i've ever seen. ever. so yeah, 2008 was great.
the music was spot on, the sound amazing, and the stage show mesmerizing. thom contorted and seizured on the stage like i had dreamed, and johnny greenwood turned his ax extra-terrestrial like i've heard on the albums many many times over. the sing-alongs in the crowd reminded me that world peace is in fact attainable.
#1 --> nick cave & the bad seeds @ 9:30 club 10/5 - washington, dc
this is the show i've been pining over for years. nick cave and his bad seeds finally return to the u.s., play a small club, and i get to go...a mans dreams can come true.
allison, clint and I arrived to the venue WAY early so we could get to the front of the house as soon as the doors opened. since we're somewhat unfamiliar with vegan restaurants open on sundays in DC (yikes!), we fortunately found an african joint nearby that had some leftover tofu scramble and pancakes. so yeah, there we were on a hot day, outside of 930 club, eating cold/old breakfast foods waiting to see the Cave - a favorite memory.
anyhoo, we get inside, and immediately run to the front, and proceed to wait for a couple of hours. the opening band belmer dolls were, meh...so we'll skip that. lets just say, if you know you're getting a new car for christmas, it's hard to get excited about the pair of socks you just opened.
when the lights went down, i ran to the press section to snap a few shots...which was pretty surreal. here was the man i've been waiting to see for YEARS, and he's kicking and jumping right over my head! some of the shots i took are posted
here
.
after my one song/no flash photo limit (yeah, for real), i moved to the right of the house and watched the remainder of the show. jawdropping. the man has 10x more charisma than morrissey, without any of his nonsense. nick and his bad seeds blasted through 2 hours of rock and roll, moving steadily through his albums as far back as '84, and concentrating pretty heavily on his newest album
Dig, Lazarus, Dig!!!
(which is great, by the way).
the biggest surprise i took away from this show: nick cave is a normal dude. considering his bigger than life persona, looks that could kill, and his evil, evil swagger, he was a normal freakin' dude! friendly to everyone in the crowd, bantering back and forth with everyone, and even making fun of an obnoxious kiwi out in the crowd (well, he let him play the tambourine during one song, so they made up).
in short, what made this show the best of the year...and the best of my life...is that it delivered. so many things in life are built up in my mind, and when they finally come to fruition aren't quite what i had always dreamed. well, this was better than i ever anticipated. simple. my only hope is that i can witness this musician in action again.
some other great shows of note from 2008!
ween @ toads place
the mountain goats @ black cat
ben folds @ the national
the new pornographers w/ okkervil river @ toads place
old crow medicine show @ the national
girl talk @ toads place
circa survive @ the national
gwar @ the national
justin townes earle @ ashland coffee & tea
bonnaroo @ manchester, tn
mgmt @ the national
bon iver @ black cat
bruce springsteen @ richmond coliseum
mogwai @ the national
tony rice @ the science museum of virginia
broken social scene @ toads place
of montreal @ the national
the toadies @ canal club